I understand as a dog owner, your dog is very precious to you. To capture that, I am available for commission work to create a portrait of your dog. Here are some of the ones I have done.
View My Video Of Dog Portraits
Happy Owners of Dog Portraits
Here is what some of my clients have said.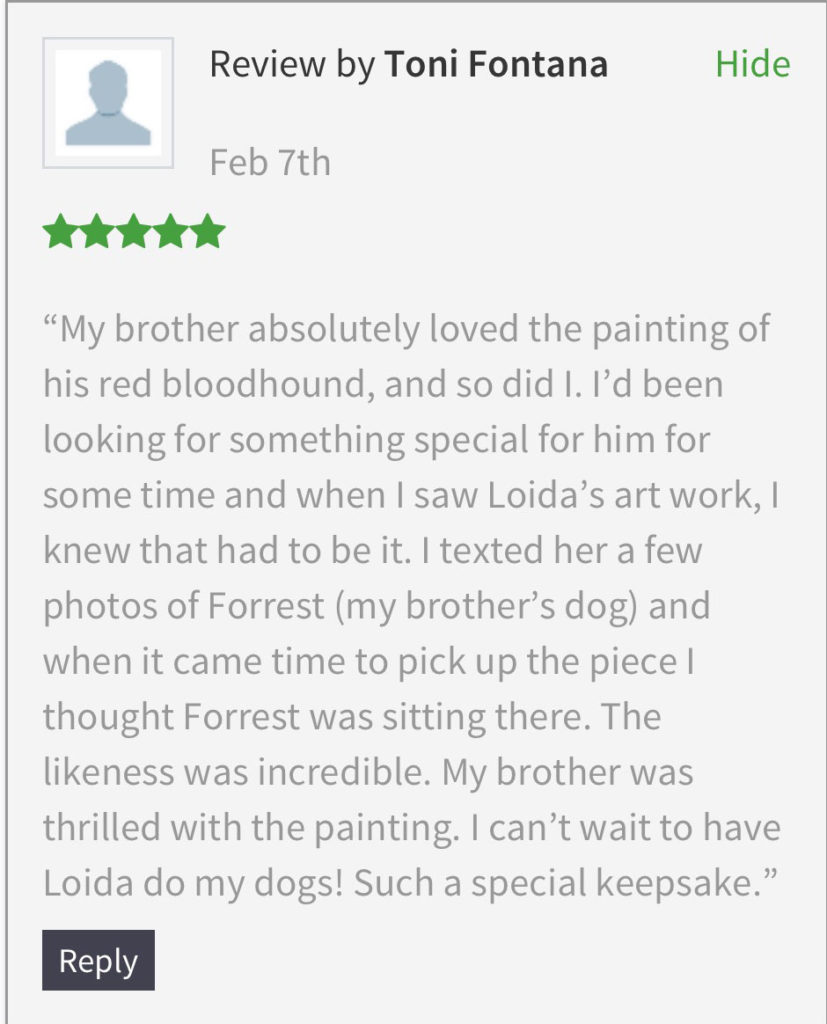 Cindy Loper
⭐⭐⭐⭐⭐
"Loida is a fabulous artist!!! The painting she did of my daughter's dog hangs in their baby's nursery!!!! So much talent!! 5 big stars! ⭐⭐⭐⭐⭐"
Cynthia Anhalt
⭐⭐⭐⭐⭐
"Loida is so talented! She took a photograph of my dog and made her come to life! I smile every time I look at my piece! I can't wait to have her do more pieces for me!"
Delores Wheeler
⭐⭐⭐⭐⭐
"The artist captured the essence of my precious puppy, Sugar. A sweet little girl nestled in the autumn leaves. This beautiful painting is proudly displayed in my home."
Annmarie Metzler
⭐⭐⭐⭐⭐
"I love love love my picture of Cooper. It looks just like the picture I gave you. Very happy with my painting."
Barbara Knuff-Myerson
⭐⭐⭐⭐⭐
"Loida did a wonderful painting of my 2 Standard Poodles. The detail in her work is amazing!! The painting looks exactly like the photograph I gave her. I loved how she sent pictures of her progress along the way and made the changes I wanted. She's very talented, friendly and easy to work with!! I highly recommend her!"
Contact me if you would like to speak about getting a portrait of your dog.